TomTom to Add 3rd Party POI Support by End of January 2011
Date: Friday, November 19 @ 13:49:28 UTC
Topic: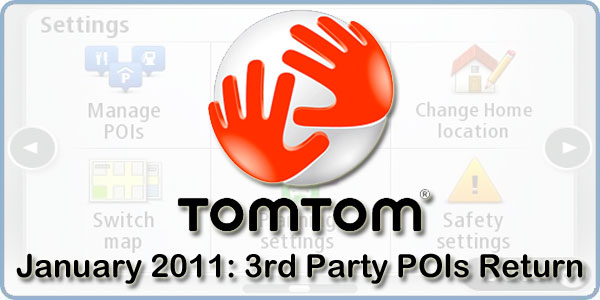 TomTom held a 'Webinar' covering various aspects that have been brought up by community websites, such as PocketGPSWorld.com, regarding the 'missing features' from their new WebKit based devices (GO 1000 series, and Via range) and MyTomTom (the new online software for managing your device).

The statements are looking quite promising and are summarised below:




Latest Map Guarantee and Speed cameras will be available towards end of the year


3rd party Points of Interest will be enabled by end January 2011


Latest Map Guarantee – extended from normal 30 days to 90 days for the GO 1000 series and Via ranges


Itinerary Planning will be available in Q2 2011, as part of a scheduled feature release




We also quizzed TomTom for some more details on the POI aspect of their announcement so read on to find out what will and won't be available for you.

Click here to read more...

Click here to discuss...