Brodit introduce range of iPhone 4 cradles
Date: Tuesday, August 31 @ 10:22:39 UTC
Topic: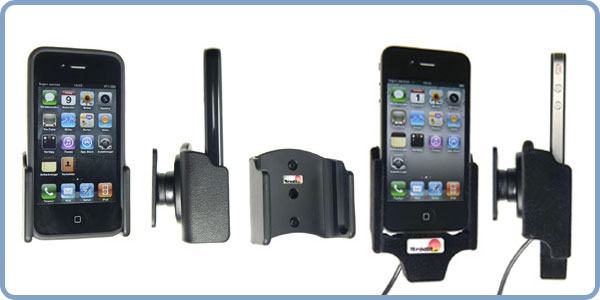 Brodit have released a range of iPhone4 specific cradles.

The range includes active (powered) and passive (unpowered) designs, cradles that can accommodate a case (not Apple Bumper type) and a specific version designed to accommodate the iPhone4 with the Apple Bumper.

It seems that the deeply recessed sync port has precluded the option of an active cradle that can accommodate an iPhone4 fitted with Apple's official bumper wrap but this does still permit the direct connection of a suitable charge lead.

With some careful trimming of the shroud around the sync plug on the Brodit 3G/3GS cradle, I have made it work successfully with my iPhone4 which is fitted with the bumper.

For more information on Brodit's range of iPhone cradles visit their web-site here.

Click here to read more...

Click here to discuss...