New Cobra 18 Satellite all-in-view Handheld GPS Receivers!
Date: Monday, December 22 @ 12:45:55 UTC
Topic: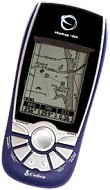 If I mentioned the name Cobra, I'm sure some of you would recognise the name from a well known Speed Camera Detector ? Well you would be right!

Cobra have entered into the GPS market, but they're not going to stand by and invent something that is already available. No, Cobra are going to invent some nifty new little GPS handhelds, catchy to the eye, but wait...! There's something wrong here. Are they a 12 satellite receiver, nope! Are they an 8 sat receiver, nope! All the new Cobra GPS Receivers support 18 Satellites all-in-view! - Yeah baby!

Cobra have brought three new handheld GPS Receivers to market, one is the GPS 100, another the GPS 500, and the final (which really looks like a mobile phone) is the GPS 1000. Whats more, they all come in under $185!

They all come with 18 Sats all-in-view, WAAS enabled, Compass, Altimeter, Clock, and they're waterproof! Supporting up to 2000 tracklog points, 10 tracks, 100 map datums and much more. This is simply fantastic!

For more information and larger photos, check this forum thread.

Comments ?.