Exit stage left - Dash Navigation check out of the Navigation Arena
Date: Tuesday, November 04 @ 10:10:37 UTC
Topic: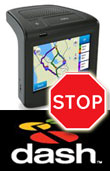 Snowball effect? Dash Navigation, US developer and manufacturer of the Dash Express connected navigation device yesterday announced they were pulling out of the consumer navigation market to concentrate on licensing their technology and services to other manufacturers instead.

Coming in the wake of the news of MyGuide this is very sad and further evidence that the GPS market is going to see many more smaller companies fall by the wayside.

The Dash Express was a novel and innovative product that used GSM and WLAN technologies to share data on traffic patterns between other Dash users. Very similar to TomTom's x40 range, the unit was beset by issues with the software and pricing and the market downturn looks to have hastened its demise.

Although industry analysts are still talking of strong growth in the navigation and location based services arena, only thoe companies with sufficient capitalisation and investment will be able to benefit so who is next?

Dash's full press-release can be read here. Click here to discuss...