HP announcing worldwide availability date for iPAQ 910
Date: Tuesday, June 10 @ 21:46:44 UTC
Topic: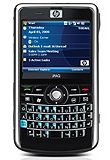 Amidst a slew of other product announcements at their "Connecting Your World" event today in Berlin HP also (finally) declared general availability of their latest incarnation of the thumbboard equipped Pocket PCs, following in the footsteps of the 65x and 69xx.

The 910 is interesting for us since it has a built in GPS receiver (at the moment it is not clear which GPS application will be preinstalled), and we will review it as soon as it is available.

Click here to read more and to discuss...