Navigon 2100max PND
Date: Monday, June 02 @ 19:03:11 UTC
Topic: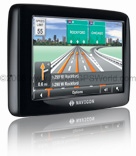 Navigon have had a hard time in the US market. Management changes, product release delays, inferior routing - you name it, they had it.

Since a few months their situation seems to improve (they claim being number four in the market now), and they are actually releasing some devices.

Here we have a look at the new "low end flagship" PND, the "2100max". We have taken it through our gruelling tests, let's see how it performed.

Click here to read more...

Click here to discuss...