Wonde Proud GiSTEQ PhotoTrackr Lite review
Date: Sunday, March 30 @ 20:50:29 UTC
Topic: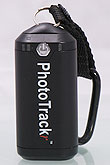 In December 2007 I reviewed the GiSTEQ PhotoTrackr at that time the only GPS dataloggers available were the Wonde Proud Nemerix BT-CD110/CD111. Since then GiSTEQ has released the PhotoTrackr Lite package which is based around the Wonde Proud DPL700 GPS Datalogger.

The original PhotoTrackr products range in price from $129 to $169 depending on the software and hardware selected, whilst the new PhotoTrackr Lite sneaks in at a mere $99.

So what is different in the PhotoTrackr Lite package, and which one is suitable to your requirements? Click here to read on and find out...

Click here to discuss...