CoPilot Live 7 Review Now Available
Date: Sunday, March 16 @ 19:33:15 UTC
Topic: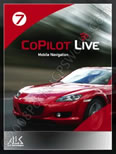 ALK Technologies are well known for their CoPilot navigation application. Having been around in many versions since the inception of affordable end user navigation solutions it has progressed to become a respected and popular package.

The latest version to be released, CoPilot Live 7 is a fully featured navigation application for PocketPC. ALK have redesigned CoPilot Live 7 from the ground up and so it bears little resemblance to its predecessors.

CoPilot 7 is available in many guises, you can purchase it in software only form which is supplied pre-installed on a memory card for easy and quick installation on your own hardware or you can find it bundled and pre-installed on GPS equipped PocketPC Phones from providers such as O2 and T-Mobile in the UK.

For the purposes of this review I am testing the UK Map software only version and our thanks go to ALK Technologies for providing the software.

Click here to read the full review...

Click here to discuss...