Carcomm HTC Hero Cradle Launched


Article by: Darren Griffin
Date: 28 Dec 2009



The latest product from Dutch company Carcomm's design labs is a cradle for HTC's uber popular Hero Android smartphone.

The HTC Hero is infamous for it's protruding 'chin' design which presents problems for designers. The chin makes it awkward to design a cradle that will line up with the bottom positioned USB port but Carcomm have overcome this problem with their Hero cradle.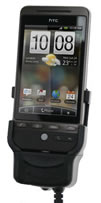 As with all Carcomm's other cradles, the Her model, Product #CMPC-139 provides fro 12/24v power and has all the charge and voltage reduction circuitry contained within the cradle itself.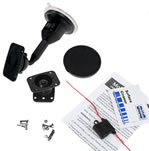 The beauty of this design is that although it comes fitted with a cigarette lighter plug, you can safely remove this if you wish to hard-wire without fear of frying your device!

Carcomm's kit generously includes a windscreen suction mount and self adhesive disk plus a swivel mount and screws should you wish to attach to the dash.

Price is as yet unknown but retailer TotalPDA is the authorised UK stockist.

If you prefer an OEM look for your cradles with a high quality design then you can't go wrong with Carcomm's products.

For more information visit their website at www.Carcomm.nl.
Comments
Posted by xant14 on Mon Dec 28, 2009 2:33 pm

Looks neat, I think I may be investing in one, depending on price obviously.

---
Posted by meestermartinho on Tue Jan 05, 2010 10:42 am

£51.70 inc vat.

They are on the TPDA wesbite.

Carcomm stock normally takes about a week to arrive from order.

---
Posted by Darren on Tue Jan 05, 2010 11:17 am

I've been using it a while now and it works perfectly. It may seem expensive but the construction is more akin to an OEM phone kit with a very nice moulded cradle that looks much nicer than cheaper solutions AND dropping the phone in to charge is simple and easy.

---

Darren Griffin - Editor
I ran the 2013 London Marathon in support of the National Autistic Society see here.
Posted by xant14 on Tue Jan 05, 2010 7:36 pm

Nice.. but not £52 nice. I will be giving it a miss. Only got 4 month left of my T-mobile contract anyway, so I will be looking for a change of phone. I have a Tesco universal clamp/charger @ £4 which suits my needs, although I have to put the cable into the phone.

---